Abbott (NYSE:ABT) has halted a clinical trial comparing its HeartMate II ventricular assist device with the Abiomed (NSDQ:ABMD) Impella heart pumps.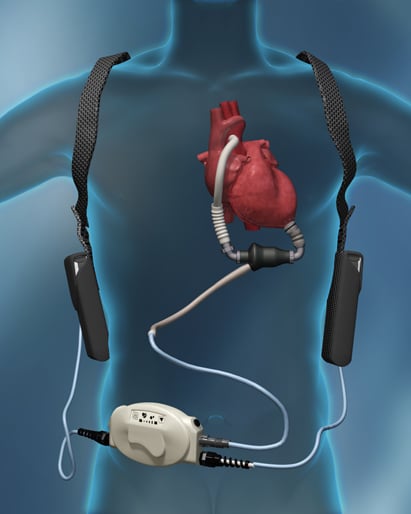 The Abbott Park, Ill.-based company suspended enrollment in the Shield II investigational device exemption study after a report of decreased impeller speed at the end of a procedure.
The HeartMate II is a high-speed rotary blood pump that produces an axial flow and therefore no pulsatile action. The impeller is its only moving part, which spins at rates between 2,000 and 3,000 revolutions per minute, according to the University of Michigan Frankel Cardiovascular Center.
"The impeller is suspended within the pump housing through a combination of passive magnets and a hydrodynamic thrust bearing," the university's website says. "This hydrodynamic suspension is achieved by a gentle incline on the upper surfaces of the impeller blades. When the impeller spins, blood flows across these inclined surfaces, creating a 'cushion' between the impeller and the pump housing."
The HeartMate PHP system is a temporary (<6 hours) ventricular assist device indicated for use during high-risk percutaneous coronary interventions (PCI) performed on patients with severe coronary artery disease. Abbott spokesperson Jason Pacquette confirmed the trial suspension and told MassDevice that no patient was harmed by the impeller speed issue.
This is not the first time Abbott paused the Shield II trial. It also did so temporarily in 2017 due to an issue with its catheter. Abbott acquired the Thoratec line of HeartMate cardiac assist devices when it paid $25 billion for St. Jude Medical (NYSE:STJ) that year. Shield II began enrolling patients ni 2015.